I
n our school room there are a few items that we use everyday and sometimes several times a day. I decided that it would be easier if I could keep all of these items in one central location that was easy for the girls to reach without getting out of their seat. This organizer was the perfect solution. It sits on the table between the girls, it is easy to move if we need more table space, and best of all... it was free!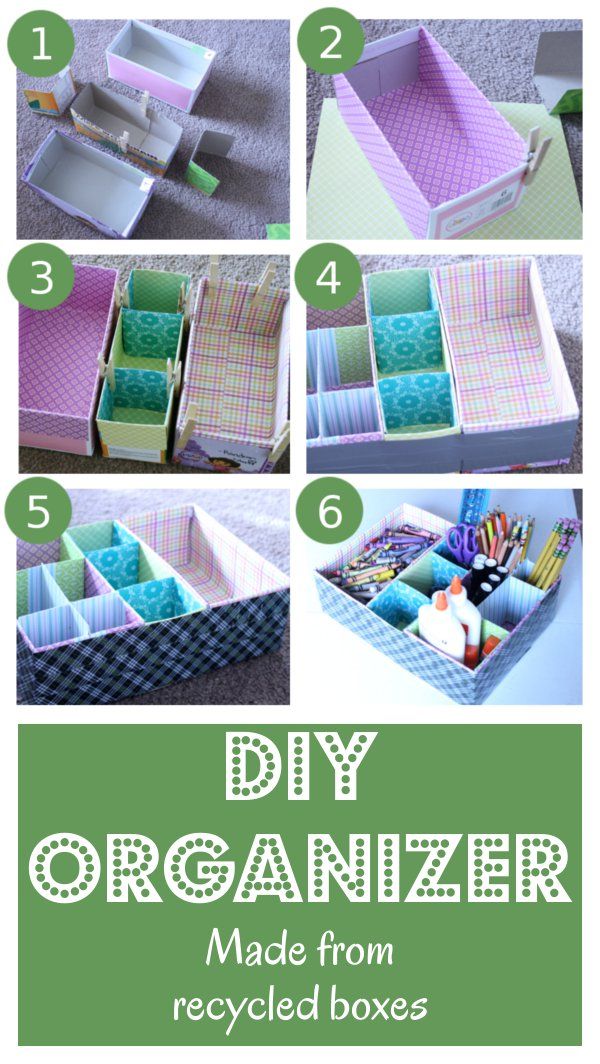 Decide what boxes you are going to use and cut them all to the same height. I used two shoe boxes and the bottom of a cereal box. The cereal box was 2 inches longer than the shoe boxes so I cut the cereal box in half, slid one half inside the other until they were the same size, then glued them back together.

Cut a strip of scrap paper the length of your box. Line the center of the scrap paper up with the center of your box and form to the inside. It is easier to make your creases first before glueing the paper to the box. Now cut another strip to go along the width of your box and glue down. Don't worry if the paper does not cover the outer sides. These will be covered later. Repeat this process with the rest of your boxes.

For the dividers, cut a length of cardboard and fold the ends in (you can see my dividers in photo #1) Cover the cardboard in scrap paper then glue them in place inside your boxes. Use clothespins or clips to hold them in place until they dry.

Arrange you boxes the way you want them and glue them together. I also wrapped a strip of heavy duty tape around the boxes for extra durability.

To cover the outside of the boxes I wrapped decorative duct tape around them but you could also cover the outside with scrap paper, or let the kids get crafty and paint or glue objects such as buttons , magazine cut-outs or tissue paper to the outside.

Now you can fill your organizer with whatever you need. In our organizer you will find pencils, colored pencils, markers, dry erase markers, glue, pencil sharpeners, erasers, scissors, rulers, a hole punch, and crayons.